Santa Claus Cupcakes
Last week I already shared a number of Sinterklaas recipes from blog colleagues. This week, however, I may introduce you to guest blogger Tamara. She is for Fulltime Mom.nl dived into the kitchen and made real Sinterklaas cupcakes with her daughter.
Enjoy your meal!
By Tamara; Sinterklaas is back in the country, reason to dive into the kitchen.And what could be more fun than making cupcakes with your child(ren)?
Santa Claus Cupcakes
You can make cupcakes with self-raising flour, sugar, butter and eggs or simply use a pack of Dr. Oetker. I always like to use the baking mixes from Funcakes.
There are hundreds of different recipes on the internet. My daughter and I opted for gingerbread spice cupcakes. The smell makes your mouth water.
We are going to decorate the cupcakes with marzipan. We make pietjes, carrots, presents and Sinterklaas's staff ourselves. Nowadays you can buy colored marzipan in small quantities at most supermarkets. You can buy all kinds of things to make and decorate cupcakes, but you don't need much for home use. You can go a long way with the ordinary things from your kitchen cupboards.
We press out marzipan rounds with a lemonade glass, we cut out the caps and feathers with a sharp knife and we make them with the garlic press.
What do you need?
For 12 cupcakes:
Baking tin for the cupcakes
12 baking cups
250 gram cupcake mix (funcakes)
3 eggs
125 grams of butter
3 teaspoons gingerbread spices
Chocolate spread or speculoos
Various colors of marzipan
Sharp knife (potato peeler)
Round cutter or a lemonade glass
Rolling pin
Powdered sugar
How do you proceed?
We start by baking the cupcakes according to the recipe on the package. When all ingredients are mixed, fold in 3 teaspoons of gingerbread spices. Put the baking cups in the baking tin and fill the baking cups up to 2/3 with the batter. (An ice cream scoop in the drawer? Ideal for filling your baking cups.)
While the cupcakes are in the oven, you can start decorating.
Cut out 12 rounds of different colored marzipan. (The marzipan will not stick if you sprinkle some icing sugar on your countertop/placemat.)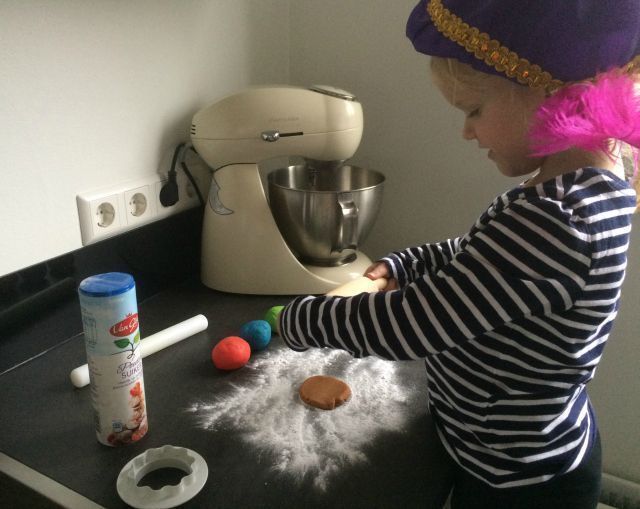 You are now going to make various figures for cupcakes. The children can also help with this. Let them roll out a piece of yellow marzipan so that you can make a staff out of it.
With a brown circle you can easily make a black pete. Roll 2 white balls and press them flat, then roll 2 smaller black balls and press them flat on the white ball. These are the eyes of the piet. You create the hat, feathers and collar by rolling out marzipan and then you cut out the shape of the hat and the feather of a different color. With a sharp knife you make the relief of a feather in it.
You make the mouth by rolling a small piece of red marzipan in your hand. You make the nose by rolling a small brown ball. With the garlic press you make the hair of the piet.
You can then stick the marzipan with a little water.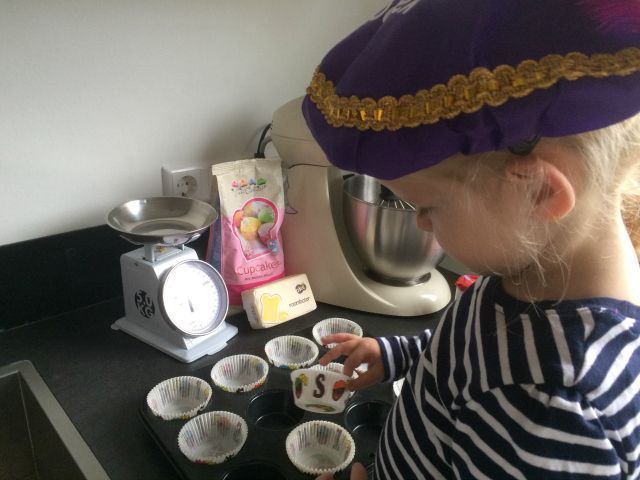 When you have decorated all the marzipan circles and your cupcakes have cooled, spread a little bit of chocolate paste or speculoos on the cupcakes. Carefully press the decorated circles onto the cupcakes and you're done!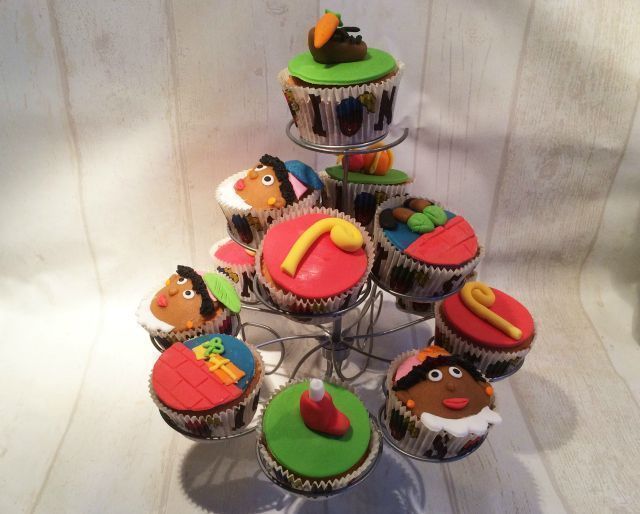 For extended how tos and recipes see my website http://www.tamara tail prints.NL
Lots of baking fun!
Dear Tamara
Tamara's Pies
♥ ♥ ♥ Affiliate links are used on Fulltime Mama. This means that if you click on one of the links, we may receive a small commission. It costs you nothing extra, but it does give us something. With these proceeds we can maintain this website.
We also sometimes get paid for an article or we get a product in exchange for a blog post. Our opinion therefore remains unchanged and honest. For more information you can read the disclaimer. ♥ ♥ ♥